Abstracts - Poster Programme
Abstract submission is now open
We would now like to offer an opportunity to submit papers for this conference in the general field of functional films and coatings. Areas to be considered include novel routes to their manufacture, the properties that such products exhibit, whether in the area of thin films or coatings based on multicomponent formulations. Other topics could include the analysis of such material. The application areas can be anything from pharmaceutical, cosmetics, agrochemicals, veterinary, to smart materials such as inks and adhesives.
Authors of successful abstracts will be offered the opportunity to present a poster on the topic, with ample opportunities to present your work which you will be able to promote in the form of a flash poster presentation early in the day.
Abstracts should consist of a one- paragraph summary (ca 150 – 200 words) and the contact details of the authors and a contact address.
Abstract Template - abstract template.doc.
Once complete this should be sent as a word document to the conference secretariat This email address is being protected from spambots. You need JavaScript enabled to view it. as soon as possible and by Monday 21st October for poster abstracts.
N.B. We are able to offer a limited number of free student places to students who submitted an abstract which is accepted - email This email address is being protected from spambots. You need JavaScript enabled to view it. with including your poster abstract as soon as possible to request a free student place.
Click on title to display abstract.
1. Property Enhancement of Healable Supramolecular Polyurethanes
S. Salimi1, L.R. Hart1, A. Feula1, D. Hermida-Merino2, A.B.R. Touré3, E.A. Kabova4, L. Ruiz-Cantu3, D.J. Irvine3, R. Wildman3, K. Shankland4, W. Hayes1⁎
1 Department of Chemistry, University of Reading, 2 Netherlands Organisation for Scientific Research (NWO), 3 Faculty of Engineering, The University of Nottingham, 4 School of Pharmacy, University of Reading
2. Two methods of using electrochemical sensing techniques to assess anticorrosion performance of organic coatings.
Raul Davalos-Monteiro a, b, Gianfranco D'Ambrosio b, Xiaorong Zhou a, Simon Gibbon c and Michele Curionia
a Corrosion & Protection Centre, School of Materials, The University of Manchester, b AkzoNobel, Powder Coatings, c AkzoNobel R&D
3. The study of graphite/graphene-based conductive ink formulations
Y. Guo*, N. Sergeeva, L. Lin
Department of Colour Science, School of Chemistry, University of Leeds
4. Low Cost Printed Graphene-Oxide Membranes for Water Purification
Ian Manfren, Farai Carter, Louise Evans, Rob Valentine, Phillip Jones, Colin Graves
CPI, UK
5. Ink formulation based on water soluble polymer and inorganic particles for gas sensor
Cédric C. Burona, Mélanie Quinarta, Lydie Viaua, Jean-Baptiste Sanchezb, Franck Bergerb, Claudine Filiâtrea
aInstitut UTINAM, UMR 6213 – CNRS – Univ. Bourgogne Franche-Comté, bInstitut FEMTO-ST, UMR 6174 – CNRS – Univ. Bourgogne Franche-Comté
6. Measuring co-diffusion kinetics on thin films
Meishan Guo1, Majid Naderi1, Manaswini Acharya1, Damiano Cattaneo1, Dan Burnett2
1: Surface Measurement Systems Ltd., UK, 2: Surface Measurement Systems Ltd., USA
7. Mg and MgN3 cluster in diamond: quantum mechanical studies
T.S. Almutairi, Paul May, Neil Allan
Bristol University, UK
8. A Cellular Automata model for the release of corrosion inhibitors from primer coatings
Eugenio Bonetti a b, Flor R. Siperstein a, Peter Visser c, Simon Gibbon d
a Department of Chemical Engineering and Analytical Science, The University of Manchester, b AkzoNobel, Sweden, c AkzoNobel, The Netherlands, d AkzoNobel, UK
9. Investigating the role of surfactant additives on anticorrosive properties of waterborne acrylic coatings using AFM-IR
Chi Him Lo1, 2, Bob Luigjes2, Simon R. Gibbon3, Stuart B. Lyon1, Lee A. Fielding1
1School of Materials, The University of Manchester, 2AkzoNobel, The Netherlands, 3AkzoNobel, UK
10. Exploring AFM-IR in practical polymer coating characterization
Apoorva Ambarkar*‡§, Steve Edmondson‡, Keimpe van den Berg§.
‡: School of Materials, The University of Manchester, §: AkzoNobel Coatings B.V, The Netherlands
11. The effect of the polymeric matrix on the leaching behaviour of corrosion inhibitors for active corrosion protection
A. Cervellera-Dominguezab, X. Zhoua, Peter Visserb, Carlos Avendanoc, S.R. Gibbond
a Corrosion and Protection Centre, School of Materials, University of Manchester, b AkzoNobel, Specialty Coatings, The Netherlands, c School Chemical Engineering and Analytical Science, The University of Manchester, d AkzoNobel Research & Development, UK
12. Reinforcement of bovine gelatin films by DHT treatment for drug delivery application
Jihane MZOUGHI a, b, Luc DELMOTTE a, Cyril VAULOT a, Simon GREE a, Thierry VANDAMME b, Valeriy LUCHNIKOV a
a Material Science Institute of Mulhouse, b Faculty of Pharmacy of Strasbourg
13. Production and commercialisation of pinene acrylates and methacrylates: A sustainable alternative to common monomers for coating applications
María Pin-Nó1,2, Chandres Surti2, Robert Stockman1, John Daly2, Steven Howdle1
1 School of Chemistry, University of Nottingham, 2 Cornelius Specialties
14. Influence of filler size and concentration on the mechanical properties of polymer composite coatings
L. Hall a, b, E. Kynaston b, C. Lindsay b, M. Ramaioli a, J.L. Keddie a
aUniversity of Surrey, bSyngenta
15. Functional thin films in the manufacture of batteries
Jean. E. Marshall,1 Eleni Fiamegkou,1 Dinesha Dabera,1 Scott Gorman,2 Emma Kendrick,2 Vannessa Goodship
1WMG, University of Warwick, 2University of Birmingham
16. Reducing the zinc content in protective marine coatings
Katarzyna Rzeszutek1, Stuart B. Lyon1, Douglas Beaumont2, Christopher Jones2
1The University of Manchester, 2AkzoNobel
17. TiO2-Based Superhydrophobic Coatings with Multifunctionality and Environmental Durability
Zhiwei Huang1,2, Dan Liu1
1 Wuhan University of Technology, 2 University of Surrey
Property Enhancement of Healable Supramolecular Polyurethanes
Salimia, L.R. Harta, A. Feulaa, D. Hermida-Merinob, A.B.R. Touréc, E.A. Kabovad, L. Ruiz-Cantuc, D.J. Irvinec, R. Wildmanc, K. Shanklandd, W. Hayesa,⁎
a Department of Chemistry, University of Reading, Whiteknights, Reading RG6 6AD, UK
b Netherlands Organisation for Scientific Research (NWO), DUBBLE @ ESRF, The European Synchrotron Radiation Facility, 71 Avenue des Martyrs, 38000 Grenoble, France
c Faculty of Engineering, The University of Nottingham, University Park, Nottingham NG7 2RD, UK
d School of Pharmacy, University of Reading, Whiteknights, Reading RG6 6AD, UK
This email address is being protected from spambots. You need JavaScript enabled to view it.
Polyurethanes have a wide application because of their processability, low weight and resistance to many external conditions ranging from coating, adhesive and sealant industry to medical and automotive. Low molecular weight additives (LMWA) which can cooperatively self-assemble with supramolecular polyurethanes via complementary hydrogen bonding interactions offer an attractive route to enhancing the properties of polymer networks.1 In this study2 we have proposed a facile one-pot-no-purification route to synthesis of reinforced polyurethanes by taking advantage of the bis-urea by-product as LMWA (Scheme 1). A series of these materials with a varied loading of LMWA were synthesised and characterised. These additives are able to self-assemble with analogous recognition motifs within the polyurethanes to form polar 'hard' domains, promoting phase separation within the material and, crucially, increasing the strength of the polymer network. An alternative preparation method comprising the LMWA blended with the supramolecular polyurethane was utilised to examine the effect of material preparation and filler dispersion. Interestingly, the blended material exhibited inferior mechanical performance as a result of modest dispersion. This methodology may find use in industrial applications in which enhancements to the physical and mechanical properties can be achieved through effortless and efficient in-situ synthesis of LMWA within the polymerisation.

Scheme 1: Polydiol (black) reacting with hydrogen bonding motif (grey) bearing endcapped polymer (black/red) and LMWA (blue).
1 D. J. Cornwell and D. K. Smith, Mater. Horizons, 2015, 2, 279–293.
2 S. Salimi, L. R. Hart, A. Feula, D. Hermida-Merino, A. B. R. Touré, E. A. Kabova, L. Ruiz-Cantu, D. J. Irvine, R. Wildman, K. Shankland and W. Hayes, Eur. Polym. J., 2019, 118, 88–96.
Two methods of using electrochemical sensing techniques to assess anticorrosion performance of organic coatings.
Raul Davalos-Monteiro a, b, Gianfranco D'Ambrosio b, Xiaorong Zhou a, Simon Gibbon c and Michele Curionia
a Corrosion & Protection Centre, School of Materials, The University of Manchester, Manchester, UK
b AkzoNobel, Powder Coatings, Como, Italy
c AkzoNobel R&D, Felling, UK
Contact: This email address is being protected from spambots. You need JavaScript enabled to view it., This email address is being protected from spambots. You need JavaScript enabled to view it., This email address is being protected from spambots. You need JavaScript enabled to view it.
During the development cycle of new protective organic coatings, a substantial amount of time is dedicated to perform corrosion testing, in order to ensure adequate field performance. Reducing the time related with corrosion testing would significantly reduce development time and decrease costs. Unavoidably, laboratory corrosion testing relies on some degree of acceleration of the, often unknown, failure mechanisms. Excessive acceleration of one degradation mechanism with respect to the others might result in poor or absent correlation between laboratory testing and field environment results. Thus, some of the most popular technological corrosion testing methods require long times.
This work aims to obtain early information on corrosion progress during ISO 20340 cyclic corrosion test by using electrochemical impedance spectroscopy (EIS) measurements. The ISO 20340 cyclic corrosion test, consisting of consists of 3-day exposure in neutral salt spray, according to ISO 9227, followed by 3 days exposure to UV/condensation degradation, according to ISO 11507:2007, followed by 1 day exposure to freezing temperatures at (-20±2) °C), was applied to 16 different paint systems. At selected times, EIS spectra were acquired, and corrosion indicators were extracted by equivalent circuit fitting.
A complementary comparison on the electrochemical behaviour of the powder coating systems was done by the acquisition of electrochemical data obtained by the application of potential (voltage) sinewave signals onto two well-known field performance samples. The result of this sensing approach delivered faster conclusion and a good correlation to the performance on the field.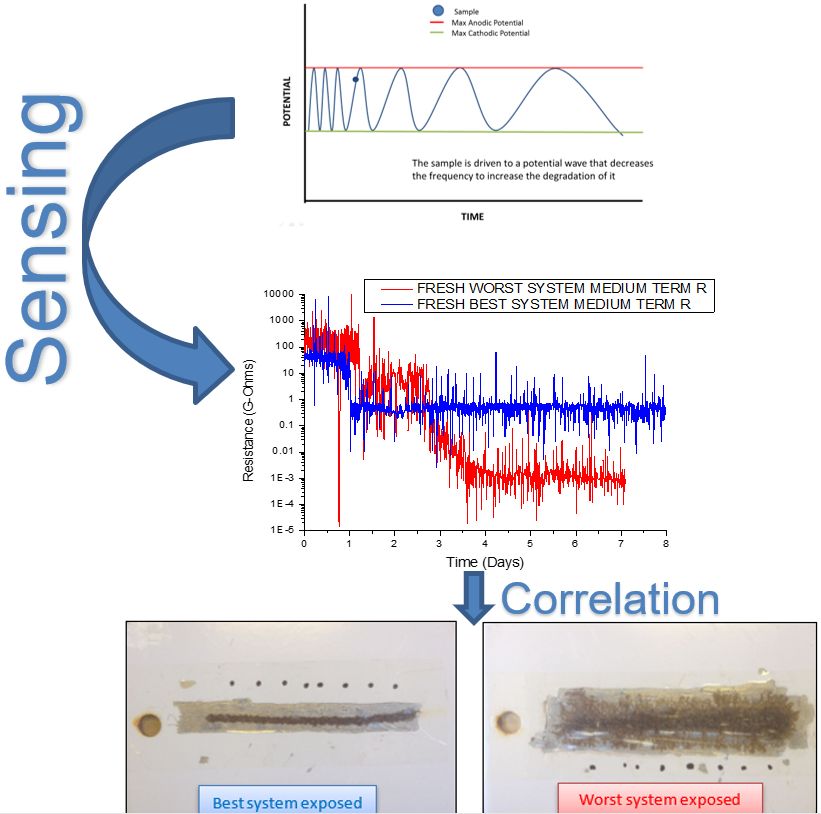 Figure: Potential Sinewave Method
The results indicate that the corrosion indicators obtained from sensing electrochemical signals can, in most cases, be successfully used to assess the corrosion damage during a cyclic corrosion test or an immersion test, providing indication of failure and a ranking of the anticorrosion performance of the coatings at a relatively early stage of the test.
Keywords: Electrochemical Impedance Spectroscopy; Accelerated Corrosion Testing; Corrosion Correlations; Powder Coatings; Corrosion Propagation; Electrochemical Methods: Sensing; Potential sinewave, Field Performance
The study of graphite/graphene-based conductive ink formulations
Y. Guo*, N. Sergeeva, L. Lin
Department of Colour Science, School of Chemistry, University of Leeds, Leeds, LS2 9JT, U.K.
This email address is being protected from spambots. You need JavaScript enabled to view it.
In recent years, applications that use flexible printed electronics have massively increased. Printed flexible electronics are becoming increasingly popular due to their thin, flexible and wearable properties. Formulating high quality conductive inks represents one of the biggest challenges in the printing of conductive products, due to their required high conductivity and flexibility.1 Various conductive ink formulations include different components such as polymers/binders, additives, carbon nanotubes and metal nanoparticles etc. When compared against metal-based conductive inks, graphite/graphene-based inks are less expensive, more stable, and environmentally benign. Hence, there is a critical need for the development of graphite/graphene-based conductive inks. The main purpose of this study has been to understand the mechanisms involved in making graphite/graphene-based ink formulations. Moreover, with an understanding of the effects of polymeric binders, conductive graphite/graphene dopants, surfactants and additives, more formulations can be easily optimised to make conductive inks for a range of different printing processes and applications.
Low Cost Printed Graphene-Oxide Membranes for Water Purification
Ian Manfren, Farai Carter, Louise Evans, Rob Valentine, Phillip Jones, Colin Graves
CPI
This email address is being protected from spambots. You need JavaScript enabled to view it.
Despite the UN's declared Human Right to Water Policy, almost 30% of the world's population does not have access to safe drinking water. Membrane-based water purification systems are a critical technology solution to address the global challenges of poor water quality, pollution of aquatic surface water sources, and water scarcity. Overcoming the inherent limitations of conventional membrane materials to purify contaminated water at low cost while retaining high water flux is necessary to provide the next generation of point-of-use water purification systems. A graphene oxide based coating technology has been developed that has shown excellent separation of organic contaminants. The combination of throughput at low pressure provides an opportunity for the technology to be used in point-of-use water purification systems. This poster describes the work that has been done in developing the GO based coating and application methods to enable an industrially scalable process for manufacturing such membranes, ultimately leading to the production of protototype modules.
Ink formulation based on water soluble polymer and inorganic particles for gas sensor
Cédric C. Burona, Mélanie Quinarta, Lydie Viaua, Jean-Baptiste Sanchezb, Franck Bergerb, Claudine Filiâtrea
aInstitut UTINAM, UMR 6213 – CNRS – Univ. Bourgogne Franche-Comté, 16, Route de Gray, 25030 Besançon Cedex, France
bInstitut FEMTO-ST, UMR 6174 – CNRS – Univ. Bourgogne Franche-Comté, 15B, Avenue des Montboucons, 25030 Besançon Cedex, France
This email address is being protected from spambots. You need JavaScript enabled to view it.
Organic electronic is a growing research area leading to new challenges for academic and industrial scientists. Using conjugated polymers, thin conductive films can be deposited onto flexible substrate for different applications such as chemical gas sensors, capacitors, transistors, light emitting diodes, photovoltaics…In the present study, an aqueous dispersion of a well-known conjugated polyelectrolyte, namely PEDOT:PSS, was associated with different inorganic particles such as WO3, ZnO, SiO2 and TiO2 in order to formulate inks. Viscosity and surface tension of inks were first determined. Our results demonstrated that viscosities were identical due to the used of low particles concentrations. Surface tensions were also comparable except for WO3 based ink for which a decrease was recorded with an increase of particle concentration. Ink's wettability onto flat surface was also investigated by contact angle measurements using several flexible substrates (PVC, PET, PI and Glass epoxy). A better ink wettability was observed onto PI than on PVC independently to the formulation. Inks were then deposited onto flexible substrates by drop-casting. These thin films were finally used as an organic-inorganic sensitive layer in order to elaborate NO2 sensor working at ambient temperature for applications in air quality monitoring. Promising preliminary results have been obtained with inks made of PEDOT:PSS and WO3 particles.
Measuring co-diffusion kinetics on thin films
Meishan Guo1, Majid Naderi1, Manaswini Acharya1, Damiano Cattaneo1, Dan Burnett2
1: Surface Measurement Systems Ltd., Unit 5, Wharfside, Rosemont Roan, Alperton, London, HA0 4PE, UK
2: Surface Measurement Systems Ltd., 2125 28th street SW, Suite 1, Allentown, PA 18103, USA
This email address is being protected from spambots. You need JavaScript enabled to view it.
Moisture transport characteristics of porous materials play an important role in many industries. For example; packaging materials which can be directly related to shelf life and packaged product stability; model membranes which are widely used in in-vitro permeation studies in skin care industry; and electrospun nanofibres for polymeric scaffolds. Moisture vapour transmission rate (MVTR) measurements are generally carried out under isothermal conditions and describe the rate of water permeating through a test specimen into the headspace volume of a container which differs in relative humidity (∆RH).
Dynamic gravimetric vapour sorption (DVS) is a well-established method for the determination of vapour sorption isotherms. The high mass resolution and excellent baseline stability of DVS allows the fast and accurate determination of water sorption isotherms and diffusion kinetics over a wide range of temperature and humidity. DVS equipped with Speed of Sound sensor, is a very sensitive tool to measure organic vapour sorption and desorption. Furthermore, it is also capable of studying co-adsorption isotherms using two vapours, or organic vapour sorption at a particular relative humidity background. DVS instrument therefore can be used to determine co-diffusion kinetics on thin film samples. In this study, the diffusion of methanol, water and water-methanol co-diffusion through Kapton film at different temperatures were investigated using a specially designed Payne diffusion cell and DVS instrument.
Mg and MgN3 cluster in diamond: quantum mechanical studies
T.S. Almutairi, Paul May, Neil Allan
Bristol University, UK
This email address is being protected from spambots. You need JavaScript enabled to view it.
The geometrical, electronic and magnetic properties of the neutral Mg centre and MgN3 cluster in diamond have been studied theoretically in detail by means of a HSE06 Hamiltonian that includes a fraction of the exact exchange term; this is important for a satisfactory picture of the electronic states of open-shell systems. Another batch of the calculations by GGA functionals have also been included for comparison, and these support the results from HSE06. The local perturbation in the lattice by the introduced Mg defect is restricted in the first and second shell of atoms before eliminated. The formation energy calculated with HSE06 and GGA of single Mg agrees with the previous result.
The analysis of the band-structure of the MgN3 cluster confirms that the MgN3 defect introduces a shallow level in the gap lying within the conduction band edge. This observation is supported by the EMM method that produces n-type levels shallower than the P donor level. The formation energy of MgN2 calculated from a 2NV defect (~ 3.6 eV) is a promising value from which to engineer MgN3 defects inside the diamond by ion-implantation followed by heating to induce migrate Ni defect to the Mg centre. We recommend that first the Mg and N is implanted inside the diamond followed by heating the sample to 1200-1600 oC to induce the V and N related defects diffusion, and then accommodation by Mg to restore the damage caused by implantation. Control of the temperature is needed for this process, which demands a more precise experimental study.
A Cellular Automata model for the release of corrosion inhibitors from primer coatings
Eugenio Bonetti a b, Flor R. Siperstein a, Peter Visser c, Simon Gibbon d
a Department of Chemical Engineering and Analytical Science, The University of Manchester, Manchester, UK
b AkzoNobel, Malmö, Sweden
c AkzoNobel, Sassenheim, The Netherlands
d AkzoNobel, Felling, UK
Primer coatings are commonly employed to provide active corrosion protection through the release of corrosion inhibitors upon exposure to moisture. Experimental studies have highlighted the key role of the microstructure of the coatings in the process of leaching, as the pigment particles form a network of clusters that provides the pathway for the transport and release of the active species. However, a clear relationship between the characteristics of the microstructure and the observed leaching behaviour has not been established. Understanding and controlling this relationship will lead to the possibility to design better coatings with improved protection performance.
For this purpose, the aim of this work is the development of a model to investigate the relationship between microstructure of coatings and release of corrosion inhibitors. The modelling approach consists of an algorithm to generate virtual coatings with specific formulation parameters and a method based on a Cellular Automata model to simulate the dissolution and transport of inhibitors. The results of simulations show the changes in the release of inhibitors which result from changes in the microstructure of the coating. This proves that modelling and simulation techniques can be valid tools to assist the research and help improving the understanding of the effect of the formulation on the protection properties of organic coatings.
Investigating the role of surfactant additives on anticorrosive properties of waterborne acrylic coatings using AFM-IR
Chi Him Lo1, 2, Bob Luigjes2, Simon R. Gibbon3, Stuart B. Lyon1, Lee A. Fielding1
1School of Materials, The University of Manchester, Manchester, M13 9PL, UK.
2AkzoNobel, Rijksstraatweg 31, 2171 AJ Sassenheim, The Netherlands.
3AkzoNobel, Stoneygate Lane, Felling, Gateshead, Tyne & Wear, NE10 0JY , UK
Surfactant additives are essential in waterborne direct-to-metal (DTM) formulations for attainment of coherent and defect-free films. However, residual surfactants are suspected of influencing film microstructure and can have adverse effects on the final coating properties (e.g. appearance, adhesion, viscoelasticity and/or barrier properties) [1,2]. In this work, atomic force microscopy infrared (AFM-IR) and scanning electron microscopy (SEM) are used to elucidate the additive-induced microstructural changes of polymer films and study the coating deterioration mechanisms after exposure to corrosive environments.
The results demonstrated AFM-IR can identify and map the sulfonate groups of anionic surfactants across the styrene-acrylic copolymer film (shown in figure 1). It has been found that varying the type or/and amount of sulfur-containing surfactant in the coating can cause significant differences in corrosion protection performance.
These findings can provide deeper insight into the relationships between binder-additive structures, film morphologies and the corrosion protection performance of formulated waterborne acrylic coatings.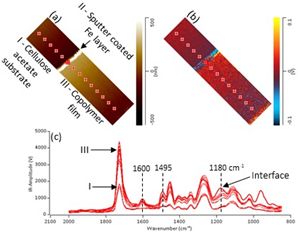 AFM-IR images (20 µm x 5 µm) of cross-section of styrene-acrylic film containing sulfonate surfactant: (a) height image; (b) corresponding IR amplitude image obtained at 1730 cm-1 (carbonyl stretch); (c) AFM-IR spectra obtained at tip positions indicated by red markers
References
[1] J. Keddie and A. F. Routh, Fundamentals of Latex Film Formation, Springer, 2010.
[2] D. Juhué, Y. Wang, J. Lang, O. -M Leung, M. C. Goh and M. A. Winnik, J. Polym. Sci. Part B Polym. Phys., 1995, 33, 1123–1133
Exploring AFM-IR in practical polymer coating characterization
Apoorva Ambarkar*‡§, Steve Edmondson‡, Keimpe van den Berg§.
‡: School of Materials, The University of Manchester, Manchester, M13 9PL, England, UK
: AkzoNobel Coatings B.V, Sassenheim, 2171 AJ, The Netherlands
Presenting author e-mail: This email address is being protected from spambots. You need JavaScript enabled to view it.
Organic coating systems play an important role in the protection of metallic surfaces from corrosion. It is often observed that coatings without an apparent defect unexpectedly fail during use, allowing corrosion to occur in specific regions and not uniformly across the surface. Thus, fundamental understanding of organic coating microstructure may hold the key to understanding failure mechanisms in intact coatings. Despite prior efforts to characterize relevant coating microstructures, direct correlations to performance remain limited. To obtain further insight requires advanced characterization tools that allow simultaneous mapping of multiple properties across the surface, such as crosslinking, stiffness/hardness, water uptake etc. AFM-IR, a hybrid technique between AFM (Atomic Force Microscopy) and infrared spectroscopy, allows advanced characterization of organic coatings by mapping their infrared absorptions across the underlying microstructure. In this study, the AFM-IR technique was employed to study practical polymeric corrosion protection coatings: near industrial BPANI (bisphenol A non-intended) food-can coating systems. Measurements have revealed intriguing results on sub-micron heterogeneity and phase separation. Unlike model systems, measurements of near industrial coating systems give a truer picture of microstructure of the actual coating, but also introduce several complexities into the analysis. Emphasis was given to understanding some of complexties arising from the surface height variation in the AFM-IR signal and correcting for these variations in the analysis.
References
[1] S.B. Lyon, R. Bingham, D.J. Mills, Progress in Organic Coatings, 2017, 102, 2–7.
[2] S. Morsch, S. Lyon, S.D. Smith, S.R. Gibbon, Progress in Organic Coatings, 2015, 78, 293–299.
The effect of the polymeric matrix on the leaching behaviour of corrosion inhibitors for active corrosion protection
A. Cervellera-Dominguezab, X. Zhoua, Peter Visserb, Carlos Avendanoc, S.R. Gibbond
a Corrosion and Protection Centre, School of Materials, University of Manchester, Oxford Road, Manchester, M13 9PL, UK. This email address is being protected from spambots. You need JavaScript enabled to view it.
b AkzoNobel, Specialty Coatings, 2171 AJ Sassenheim, The Netherlands
c School Chemical Engineering and Analytical Science, The University of Manchester, Sackville Street, Manchester M13 9PL, UK
d AkzoNobel Research & Development, Stoneygate Lane, Felling, Gateshead, Tyne and Wear, NE10 0JY, UK
Leaching of corrosion inhibitors from organic coatings is an important property for active corrosion protection to provide long-term corrosion protection. Previous studies suggest that leaching of the active species occurs via interconnected pathways in the coating and showed that the leaching behaviour is strongly influenced by the pigment volume concentration in coatings. However, the influence of parameters such as the polymeric binder matrix on the leach-rate is not fully understood yet. The thorough understanding of the effect of the polymeric binder matrix will provide essential knowledge for the development of coatings with long-term corrosion protection. The work presented aims to correlate the release rate of active inhibitor from coatings matrix with the properties of the binder matrix and moisture ingress, coating morphology, corrosion protection. For this purpose, model epoxy-based primers have been formulated with lithium carbonate as leachable corrosion inhibitor. Moisture ingress and corrosion properties were measured by electrochemical impedance spectroscopy (EIS) and linear polarization resistance. The release of lithium carbonate was monitored by ICP.
Reinforcement of bovine gelatin films by DHT treatment for drug delivery application
Jihane MZOUGHI a, b, Luc DELMOTTE a, Cyril VAULOT a, Simon GREE a, Thierry VANDAMME b, Valeriy LUCHNIKOV a
a Material Science Institute of Mulhouse, b Faculty of Pharmacy of Strasbourg
This email address is being protected from spambots. You need JavaScript enabled to view it.
The influence of thermal crosslinking on the mechanical, thermal and physiochemical properties is investigated for bovine gelatin films, a popular drug delivery platform. It is undertaken to study the changes, which take place as gelatin films are thermally dehydrated (DHT treatment) in order to investigate posteriorly the kinetic release of a model molecule through this crosslinked biomaterial. Initially, focus is given to the influence of heating time on the swelling kinetic and swelling capacity of films and on the structural properties changes induced by heat treatment using IR spectroscopy. It is found that 50 μm thick films thermally treated during 4 hours at 150°C become insoluble in aqueous medium at 37°C and exhibit a buffer uptake of 221 % and a mass loss equal to 29%. No significant differences were detected among the IR spectra before and after DHT treatment except a peak, which appears at 1718 cm-1 potentially due to esterification. For these films, which we recognized as the most promising for the drug delivery release application, additional tests were performed. It is found that, after DHT treatment, the films present a higher contact angle value and a water absorption rate of 3 μL of PBS (pH=7.4) equal to ~0.12 μL/min) comparing to ~0.18 μL/min for the untreated ones. Moreover, NMR Minispec results confirm a loss of proton mobility estimated at 8%. Differential scanning calorimetry (DSC) showed a very low crystallinity percentage which does not go beyond 3 % both before and after thermal treatment which can explain the amorphous structure of the films. Besides, surface roughness determined by atomic force microscopy (AFM) increased up to 54± 12 nm after thermal treatment. Tensile testing showed an increase in the Young's modulus of the film after thermal crosslinking from 1630 MPa ± 8% to 2454 MPa ± 10%, thus, enhancing mechanical stability. These observations confirm that 4 h of DHT treatment are sufficient to reinforce the gelatin films and make them more robust for possible pharmaceutical application.
Influence of filler size and concentration on the mechanical properties of polymer composite coatings
J. L. Hall a, b, E. Kynaston b, C. Lindsay b, M. Ramaioli a, J.L. Keddie a
aUniversity of Surrey, Guildford, GU2 7XH,
bSyngenta, Jealott's Hill International Research Centre Bracknell, Berkshire, RG42 6EY
This email address is being protected from spambots. You need JavaScript enabled to view it.
Colloidal polymers (often mixed with larger filler particles) have many applications, such as in paints, adhesives, and inks. For some applications surface structure is particularly important, but in much of the literature only bulk properties, such as strength and elastic modulus, are studied. This research aims to investigate the effect of changing the filler size and concentration on the microstructure and surface mechanical properties of latex polymer films with model filler particles of calcium carbonate. Three different micromechanical properties of thick (ca. 200-300 μm) composite films have been characterised using indentation techniques in a single cyclical measurement. The hardness was determined during indentation, the creep was measured while holding at a constant load, and the tack was found when withdrawing the probe. Measurements were made as a function of various filler concentrations and filler sizes. The protrusion of filler particles from the coating surface has effectively lowered the measured tack when compared to pure polymer films. Using smaller filler particles, creep is reduced with increased volume fraction, but using larger particles, the effective creep is increased, possibly due to crushing of particle clusters.
Production and commercialisation of pinene acrylates and methacrylates: A sustainable alternative to common monomers for coating applications
María Pin-Nó1,2, Chandres Surti2, Robert Stockman1, John Daly2, Steven Howdle1
1 School of Chemistry, University of Nottingham, University Park, NG7 2RD
2 Cornelius Specialties. 15c Rookwood Way, Haverhill, Suffolk, CB9 8PB
This email address is being protected from spambots. You need JavaScript enabled to view it.
The global concern for the environment and the limited availability of petroleum derivatives create the necessity to look for more sustainable sources. Pinenes are bicyclic unsaturated hydrocarbons naturally found in pine trees. These compounds are commonly used in the fragrance industry and they are obtained from the waste of paper or wood manufacture. We have previously demonstrated that pinenes and other terpenes can be functionalised and transformed into convenient monomers, which can be polymerised readily. Herein, we describe a new environmentally friendly synthesis of pinene monomers and their application as an alternative to petroleum-based monomers in daily commercial products. At this stage, we have synthesised alpha- and beta-pinene acrylates and methacrylates in multi-gram scale in an industrially viable process. We envisage to produce pinene monomers in multi-kilogram scale and to start their commercialisation in the next year. Personal care and coating companies have been testing the resulting polymers with promising results. The nature of these areas of businesses is excellent for introducing Cornelius in the market of sustainable monomers.
Functional thin films in the manufacture of batteries
Jean. E. Marshall,1 Eleni Fiamegkou,1 Dinesha Dabera,1 Scott Gorman,2 Emma Kendrick,2 Vannessa Goodship1
1 WMG, University of Warwick, Coventry, CV4 7AL, UK
2 University of Birmingham, University of Birmingham, Edgbaston, Birmingham, B15 2TT, UK
This email address is being protected from spambots. You need JavaScript enabled to view it.
Since their commercialisation in 1991, rechargeable lithium-ion batteries have become an essential part of our lives. Applications of this technology span across almost all portable electronic devices; from toys and electric vehicles to space and military applications. Conventional lithium-ion batteries contain a flammable, liquid electrolyte between two electrodes, which is a serious safety hazard if the battery is damaged. In lithium polymer batteries, however, the electrolyte is a solid polymer film that is capable of conducting lithium ions. This type of battery is potentially lighter than conventional lithium-ion batteries, and can potentially achieve much higher energy densities, with an improved level of safety; it can also be made thin and flexible. 'True' solid polymer electrolytes (i.e. films of ion-conducting polymers, as opposed to porous solids filled with liquid electrolyte) have significant limitations; for example, their ionic conductivity (10-3 S cm-1) can be far lower than that of liquid electrolytes (10-1 S cm-1). Herein, we discuss methods for the enhancement of ionic conductivity in the most promising polymeric solid polymer electrolytes, including the significance of nanoparticles incorporated into the film and of fine control over the films' morphology. During the formulation process for the film, we attempt to tune its micro- and/or nano- structure, which will directly affect its properties on the macro-scale. This attempt would take us a step closer towards the development of all solid-state rechargeable batteries for future electronic applications and devices.
Reducing the zinc content in protective marine coatings
Katarzyna Rzeszutek1, Stuart B. Lyon1, Douglas Beaumont2, Christopher Jones2
1The University of Manchester, Manchester, United Kingdom
2AkzoNobel, Gateshead, United Kingdom
This email address is being protected from spambots. You need JavaScript enabled to view it.
Every year around 4 million tonnes of zinc is used in the form of coatings to protect roughly 100 million tonnes of steel. The majority of zinc or zinc-alloy coatings are applied from a molten bath of metal or are electroplated. A rather significant amount comprises "cold galvanising" where the zinc metal is contained within an organic coating which is applied to steel like paint. It is assumed that zinc-rich coatings can only work in a similar fashion to metallic coatings, i.e. sacrificially. Nevertheless, environmental and cost pressures are strong drivers encouraging the reduction in the quantity of zinc in such materials. Interestingly, dissolution of the sacrificial zinc during service will release into the environment divalent zinc cations, which are extremely effective corrosion inhibitors. It remains unknown whether these species also contribute to the corrosion protection performance of zinc-rich paints.
The research explores the hypothesis that zinc-rich paints are effective primer coatings on steel via two mechanisms: (a) the zinc corrodes sacrificially to galvanically protect the steel; (b) a sacrificial corrosion of zinc causes zinc cations to be released which act as effective corrosion inhibitors. This poster will discuss the quantitative characterisation of zinc rich coating's performance with regards to the amount of zinc that corrodes during sacrificial protection in three model zinc coating systems. Potentiostatic Polarisation and Scanning Electron Microscopy (SEM) have been employed to characterise the zinc rich paints.
TiO2-Based Superhydrophobic Coatings with Multifunctionality and Environmental Durability
Zhiwei Huang1,2, Dan Liu1,*
1 Wuhan University of Technology, China 2 University of Surrey, UK
*Email: dliuThis email address is being protected from spambots. You need JavaScript enabled to view it.
Superhydrophobic (SH) surfaces with self-cleaning photocatalytic properties have become an important research focus in recent years. In this work, we fabricated multifunctional and environmentally-durable SH surfaces via a one-step reaction of octadecyl isocyanate (ODI) with TiO2 particles. The resulting films possess SH property by combining the hydrophobic long alkyl chain and a hierarchical crystalline surface texture. The coatings function well when exposed to either air or oil. The coating retains its SH properties for six months under ambient conditions. Because of the catalytic properties of TiO2, a coating subjected to organic pollution can recover its SH property after UV light illumination. Thus, the coating is self-cleaning. The covalent bond between the alkyl chain of the ODI and TiO2 and the hydrogen bonds between adjacent alkyl chains greatly increased the surface durability. The coatings are deposited by spray-coating in a process that can be scaled up. Thus, this multifunctional SH coating is very promising for commercial and industrial coating applications.